Summer Counselors
Looking for a great summer job?
You're in luck – Sunshine Camps are hiring! We're looking for excited, upbeat individuals who want to make a difference. Positions are open at both the Zilker Park and Lake Travis facilities. We provide free summer camp experiences for youth deemed "at-risk" from the surrounding Austin area. At both sites, staff and campers enjoy a variety of activities, including daily swimming, low ropes elements, hiking, overnight camping trips, day trips to the surrounding area, orienteering, and canoeing. The Lake Travis facility is centered on a more primitive type of camping. Set on 75 acres of undeveloped property on Lake Travis, this site also includes a high ropes challenge course. At Zilker Park, the staff and campers stay in a camp house located in the middle of Austin, Texas. Staff and campers enjoy swimming in Barton Springs and visiting the surrounding parks and nature centers.
All counselors recieve on the job paid training and certification in CPR and First Aid.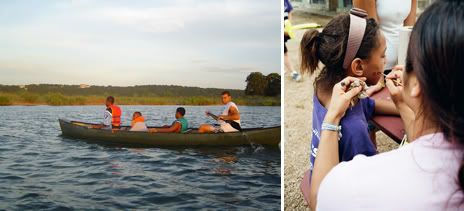 Austin YMBL Sunshine Camp Staff Positions Available
Camp Counselor at the Lake Travis Facility
Training: 10 days long in Late May
Camp Dates: Early June – Early August
This camp is located on Lake Travis near Austin, Texas. This is a wilderness-style residential camp for ages 12-15. Each session lasts 7 days, with approximately 40 kids per session and each counselor is responsible for 5-7 campers per session. Both campers and counselors sleep on bunkbeds in cabins supplied with ceiling fans, lights and electricity. The primary focus of this camp is to increase the campers appreciation about nature and the environment, as well as increasing self esteem and getting the kids to work together and appreciate their diversity. Activities include hiking, swimming, and crafts, low and high challenge course, biking and other outdoor activities. A central focus of the programming is experiential learning through the use of a challenge course.
Camp Counselor at the Zilker Park Facility
Training: 10 days long in Late May
Camp Dates: Early June – Early August
This residential camp is located in Austin, Texas and is for ages 7-11. Each session lasts 7 days and there are approximately 80 campers per session. Each counselor is responsible for 10 campers per session. Campers participate in a variety of activities such as swimming, hiking, field trips, crafts, singing songs and story telling. A central focus of the programming is giving the campers experiences they likely wouldn't experience otherwise. We do this through various experiential learning experiences and community outings. Campers and counselors sleep in boys' & girls' dormitory facilities, with professional cooks employed by the camp prepare meals.
Counselor Qualifications & Applications
Counselor Qualifications
Austin YMBL Sunshine Camp is seeking counselors for both camps who are full of fun and energy, able to get campers excited about any activity, enthusiastic, enjoy being outside and have some experience working with young people.
You must be at least be 18 years of age.
At least one year of college with some consideration for High School graduates that have had experience working with kids.
Must be able to swim, hike for up to two miles over steep and/or rough terrain and be able to carry 35 pounds a minimum of 50 feet.
Prior certifications are a plus but recertification through our program is required.
Must be able to operate a canoe and enjoy doing it.
Summer Counselor schedules must be flexible and/or open because our schedule is not. ASC plan's summer sessions year-round and time/dates are non-negotiable.
Must have a desire and ability to have fun with children while keeping them safe.